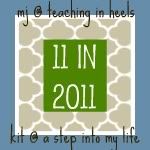 Oopsie
about Day #4. The topic was Best Leftover Recipe, and I really don't eat leftovers too often so I kind of had a mental block about it.
Today's topic is the places that I hope to travel to this year.
Numero
uno
on that list for both Brian and I would be Seattle, Washington. He's absolutely in love with the city and I am too. He's been dying to go back there since I've known him, so it would be awesome if we got to go back together.
Ahh
, St.
Maarten
. This would be a dream honeymoon location. Brian could watch planes and I could lay on the beach. No, we're not engaged. Just some wishful thinking. :)
haha
---
Random, but my Pandora station today is pretty much kicking a$$. If you like Glee, Broadway music, Disney soundtracks, and pop songs, you'll dig it. Want to listen to it? Go
here
.