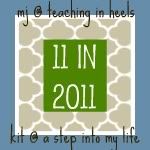 First off, it's super weird to type 2011.
Sorry, had to get that off my chest. :) I hope everyone had a great New Year's Eve and is having a great start to 2011. I have big hopes for this year.
Here are my Resolutions for 2011:
Run another 5K and run the whole entire thing.

Run a half-marathon

Clean more often and keep the house organized. I'm sort of a stacker, so I want to get in the habit of cleaning and picking up on a daily basis.

And the cop-out, lose weight. :)

Actually keep up with my My 365 Blog

And to leave you with a picture from last night...our nephew, James, passed out from too much partying.
(Don't worry, he did not consume any alcohol!)